Looking for the perfect place for Roast Dinners York has plenty to choose from, whether you are looking for the best roast in York any time of the week or specifically the Best Sunday Roast York Sunday Lunch York or Sunday Dinner York can provide you with them all, check out :
15 Best Sunday Roasts York Has to Offer
1 Little Stonegate, York YO1 8AX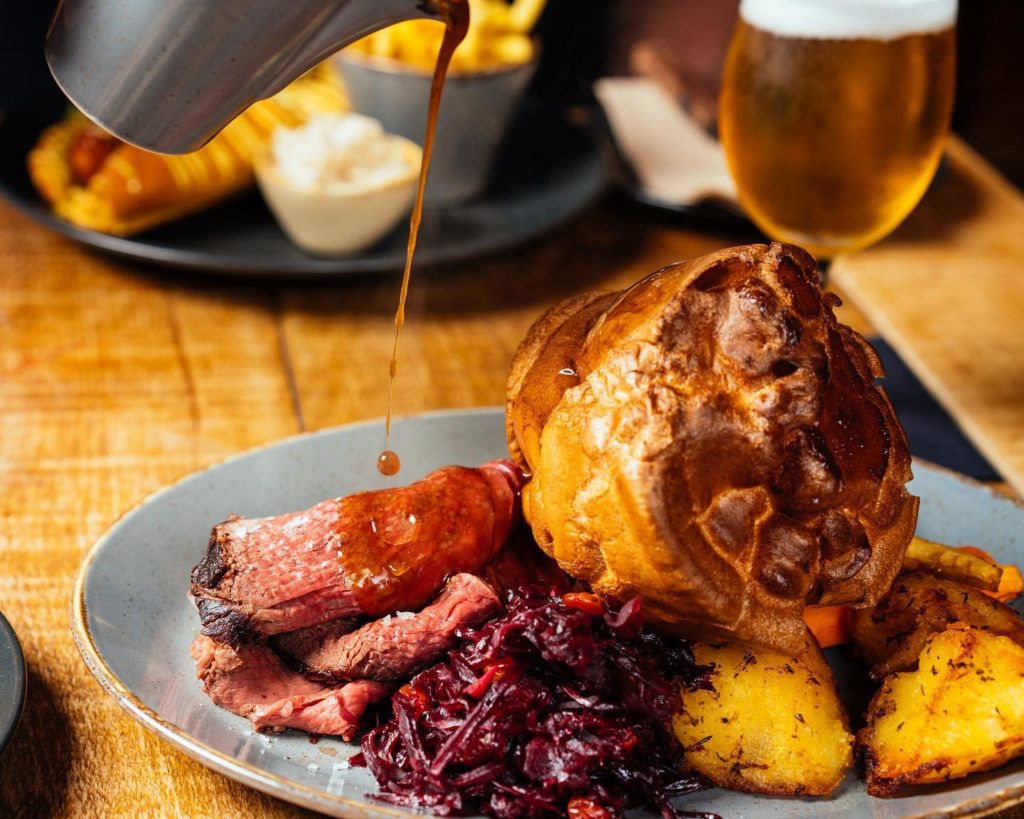 Kennedy's Bar & Restaurant is unique to York; set in the quarter, a lively cosmopolitan area bursting with eateries. They also serve up a traditional Sunday lunch with a backdrop of live jazz. Apparently their roast potatoes are to die for!
Visit the website for further details
23 Peasholme Green, York YO1 7PR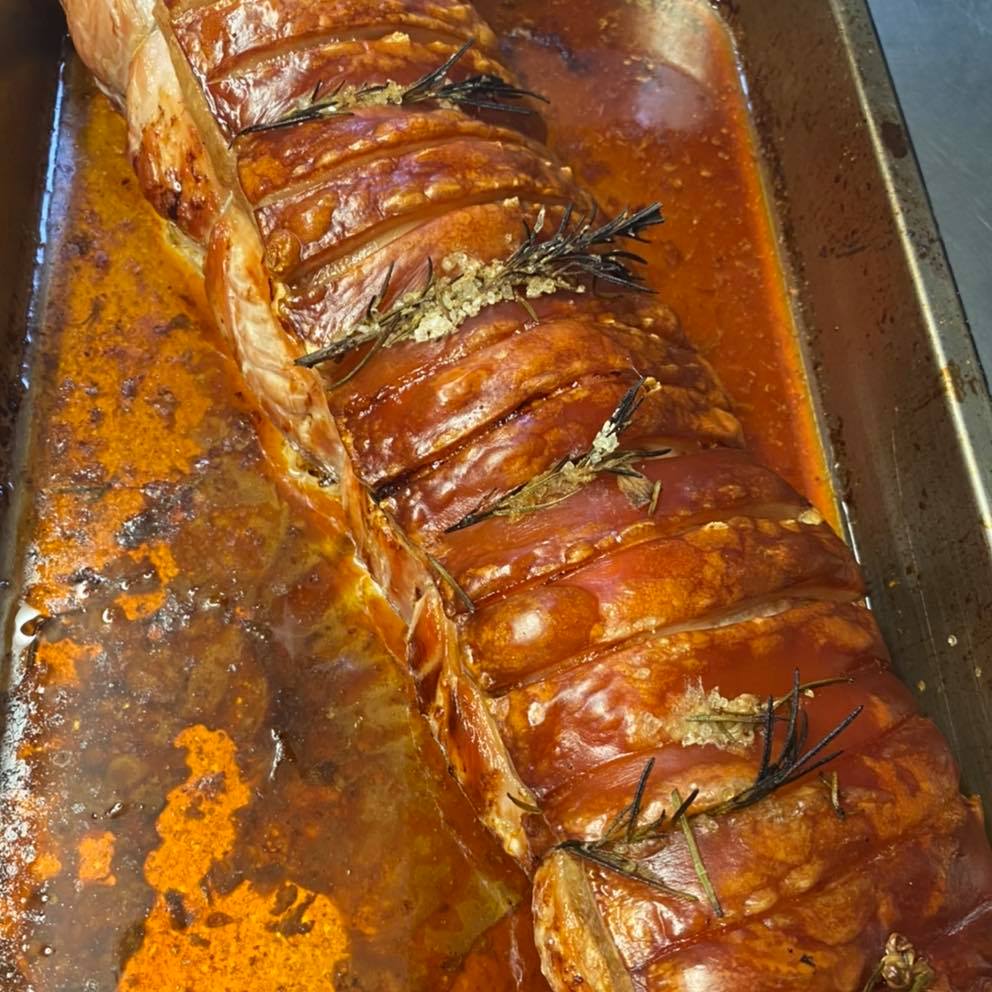 Dating from the 15th century, this half-timbered pub with rooms is a block from the River Foss. Enjoy roast beef or home-made carrot & seed loaf, roast potatoes, Yorkshire puddings, carrots, peas, braised red cabbage, cauliflower cheese and home-made mash, served with onion gravy. There is also a vegan option available.
Small lunch £10.20; large lunch £11.50
Served from 12 noon – 4.45pm
87 Church Street, Whitby Y022 4BH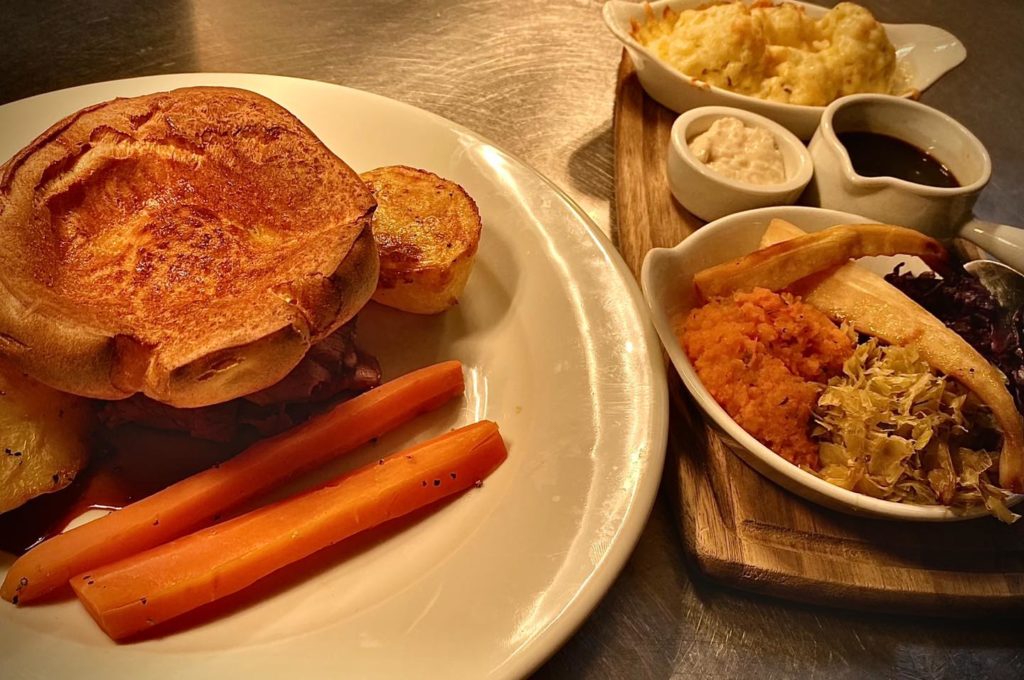 Built in 1681 by Sir Hugh Cholmley, the White Horse & Griffin was a meeting place for explorers Captain James Cook and William Scoresby, who hired their crews at the inn. It's still the perfect place to meet today, with a giant beef-filled Yorkshire pudding with all of the trimmings a lots of gravy.
Sunday lunch £15
Visit the website for opening times
Marton-cum-Grafton YO51 9QY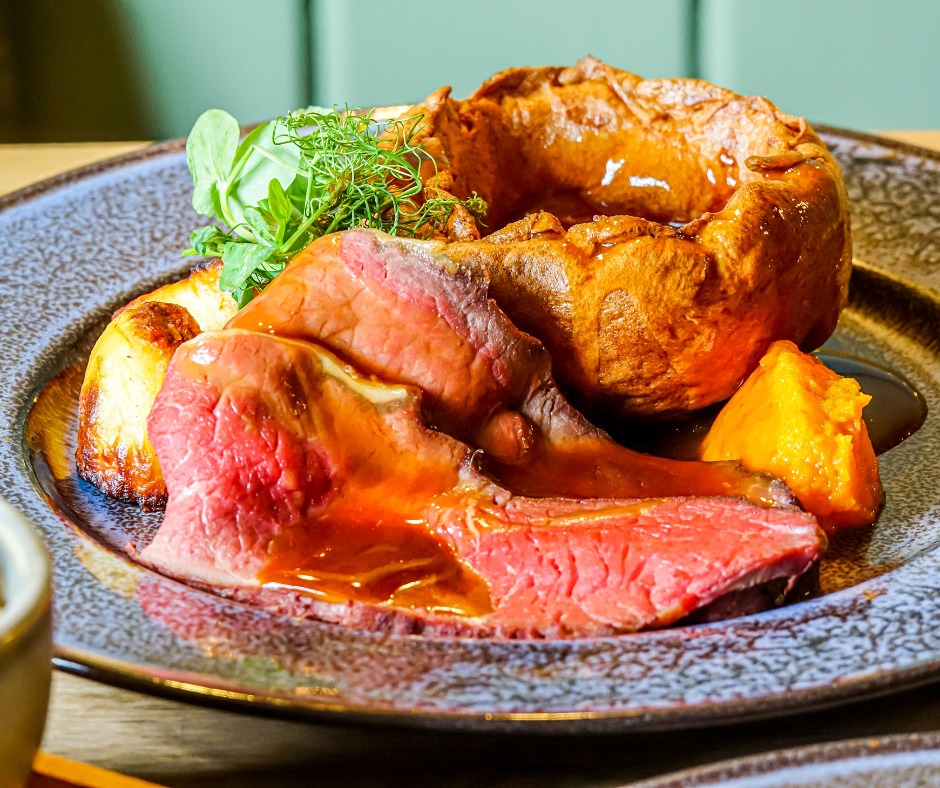 Lazy Sunday afternoons would be well spent at this inn where you can choose from sirloin of British beef, roast pork or roast chicken all served with Yorkshire pudding, roast potatoes, smashed carrot and swede, seasonal vegetables and proper gravy.
From £15 to £17.50
Served from 12 noon – 6.00pm
8 Gillygate, York, YO31 7EQ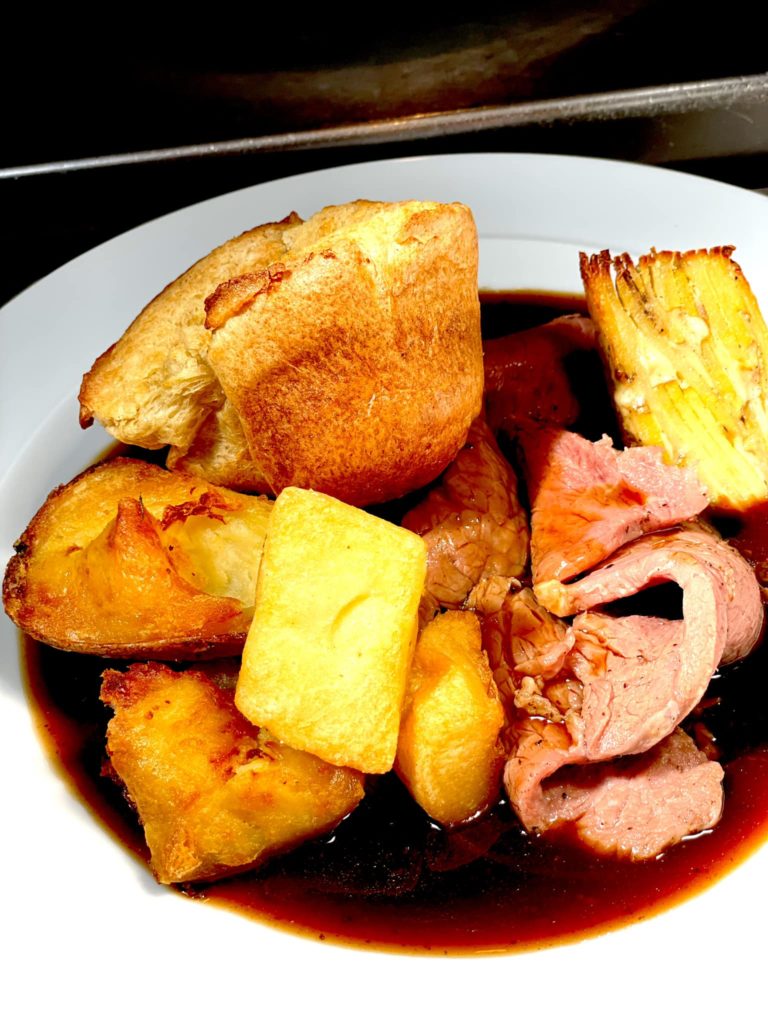 Café No.8 regularly appears in regional and national lists of 'Top Places To Eat'. Sunday lunch includes roast beef, roast pork or roast lamb served with Yorkshire pudding and traditional trimmings along with delicious gravy.
From £16 – £18
Served from 12 noon – 5.00pm
Monks Cross Drive, Huntington, York YO32 9GZ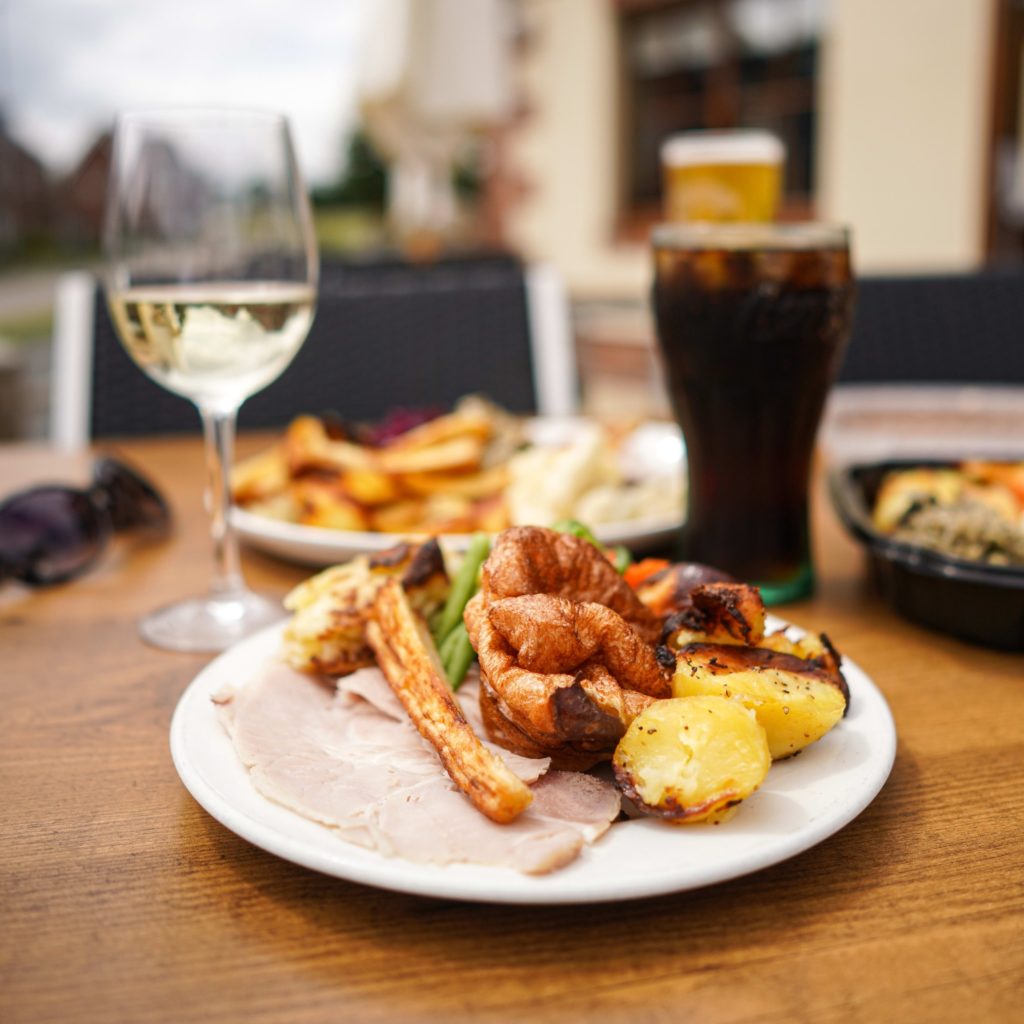 Pear Tree Farm serves Sunday lunches as a carvery. There's an extensive kids selection and an impressive Golden Years menu (for over 60s). Choose from a selection of meats and all of the trimmings, a vegetarian option is also available and the prices are more than reasonable.
From £4.99 – £11.49.
Served daily
15 North Street, York YO1 6JD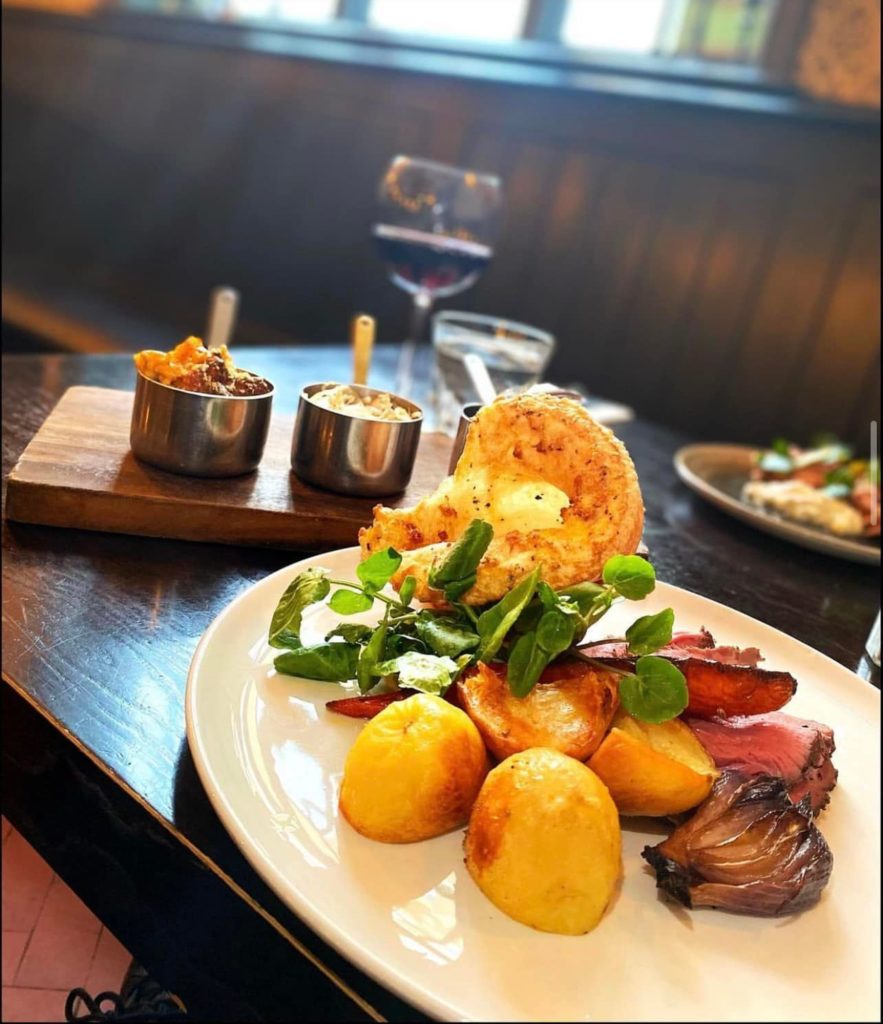 A great choice if you're looking for a posh Sunday roast with all the trimmings, The Whippet Inn is set inside York's historic walls. Get Roasted serves traditional roast dinners with all the trimmings, using Yorkshire's freshest, finest produce. We here the sticky toffee pudding is amazing!
Two courses £19.50; three courses £23.50
Served from 12 noon – 7.00pm
High Petergate, York YO1 7EH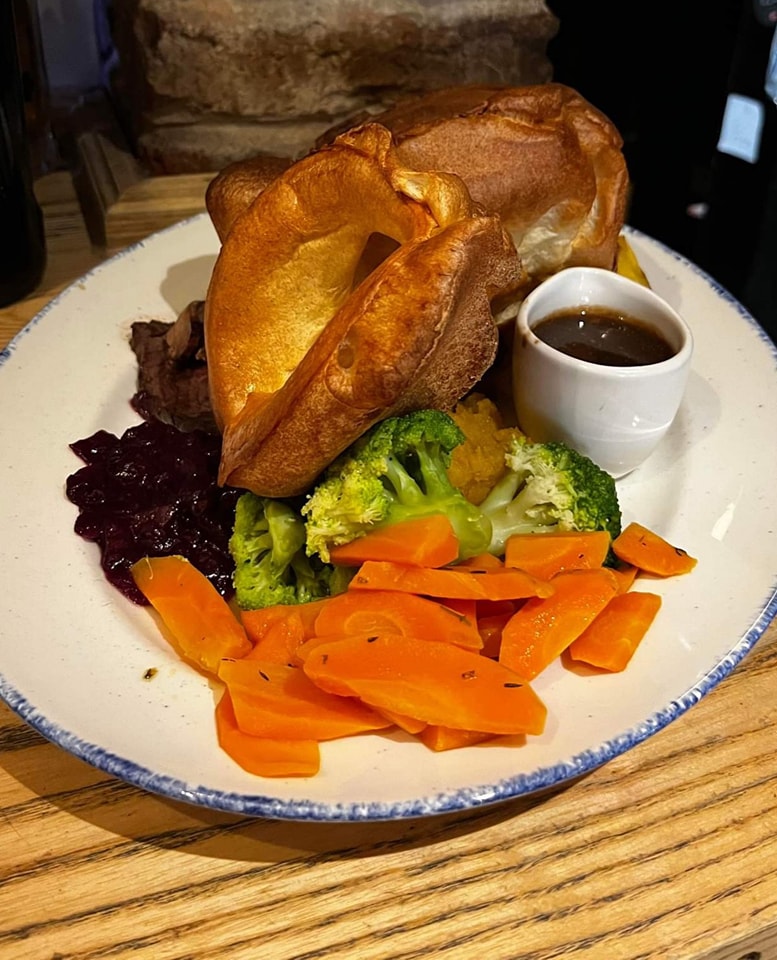 Offering a traditional warm and cosy pub welcome, the Hole In The Wall is just round the corner from the York Minster. Their Sunday roast offers a choice of traditional meats with roast potatoes and all the trimmings.
Visit the website for further details
104 Micklegate, York YO1 6JX
One of York's top independent restaurants, The Rattle Owl is found in a beautiful 17th century building. Roast dinners are a choice between mutton, beef, cod or roasted cauliflower all served with delicious sides such as bone marrow, Yorkshire pudding and roast potatoes.
Two courses £27; three courses £33
Served 12 noon – 6.30pm
68 Marygate, York YO30 7BH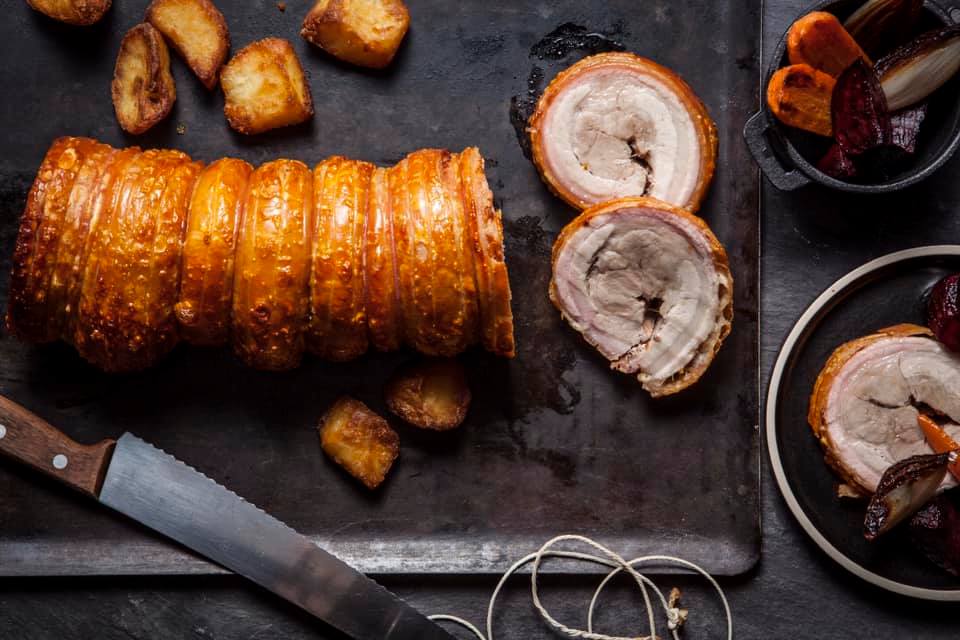 Just across from the river Ouse and opposite York's museum gardens, stands Roots. Their Sunday menu changes with the seasons using vegetables grown on the family farm in the outskirts of York and the finest locally reared meats.
Visit the website for further details
Lendal Engine House, Museum Street, York, YO1 7DR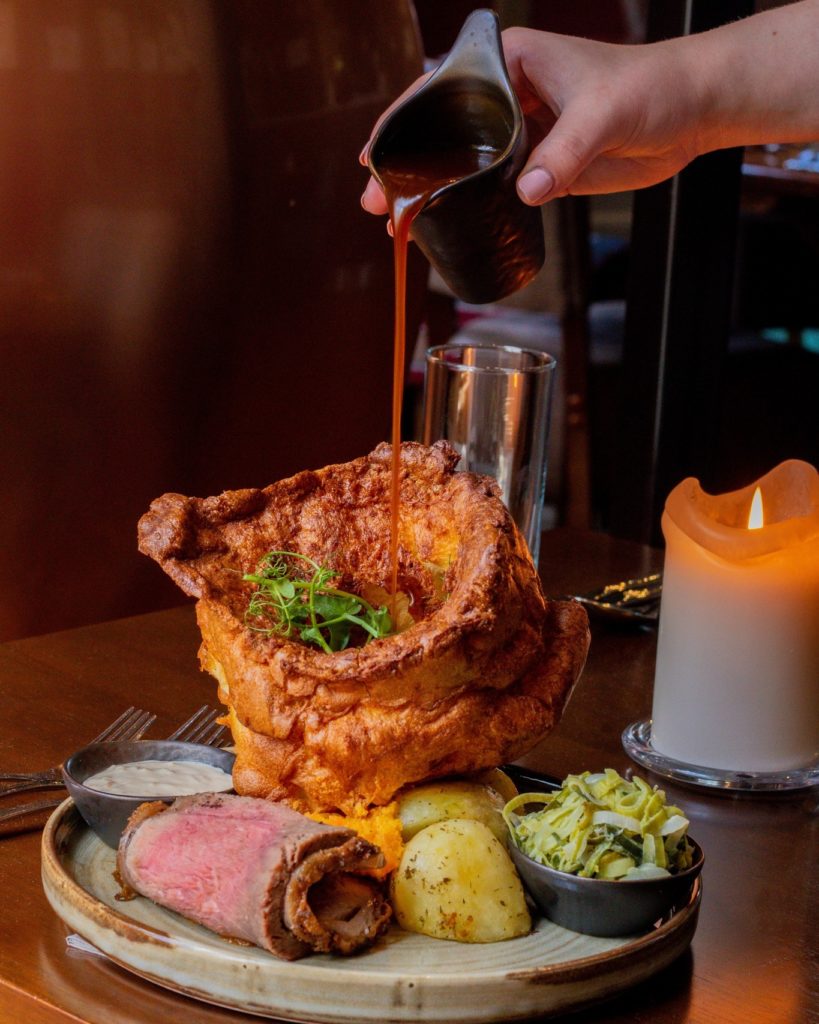 The Star Inn The City's riverside location provides wonderful views of the city. On the menu You'll find pork chops, duck breast and steak with tasty accompaniments.
There is also a children's 'starlets menu.'
Visit the website for further details
25 High Petergate, York YO1 7HP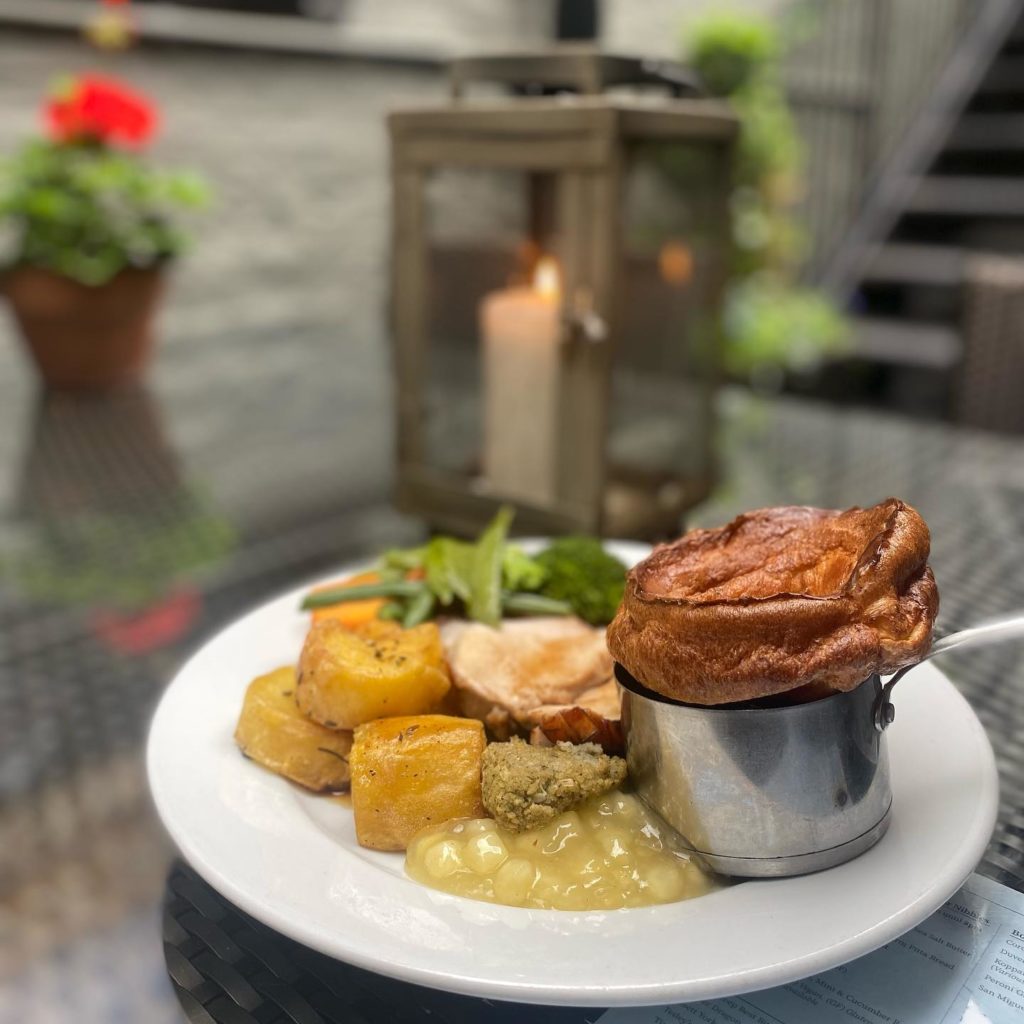 Guido Fawkes was born on this very spot in 1570 in the shadow of York Minister. Centuries have passed, but this historical building is so well preserved you could be forgiven for thinking it happened just yesterday. The menu has a nostalgic touch, with roasted quail, garlic and thyme chicken breast and roast lamb rump served with minted peas.
Visit the website for further details
Walmgate Ale House, 25 Walmgate, York YO1 9TX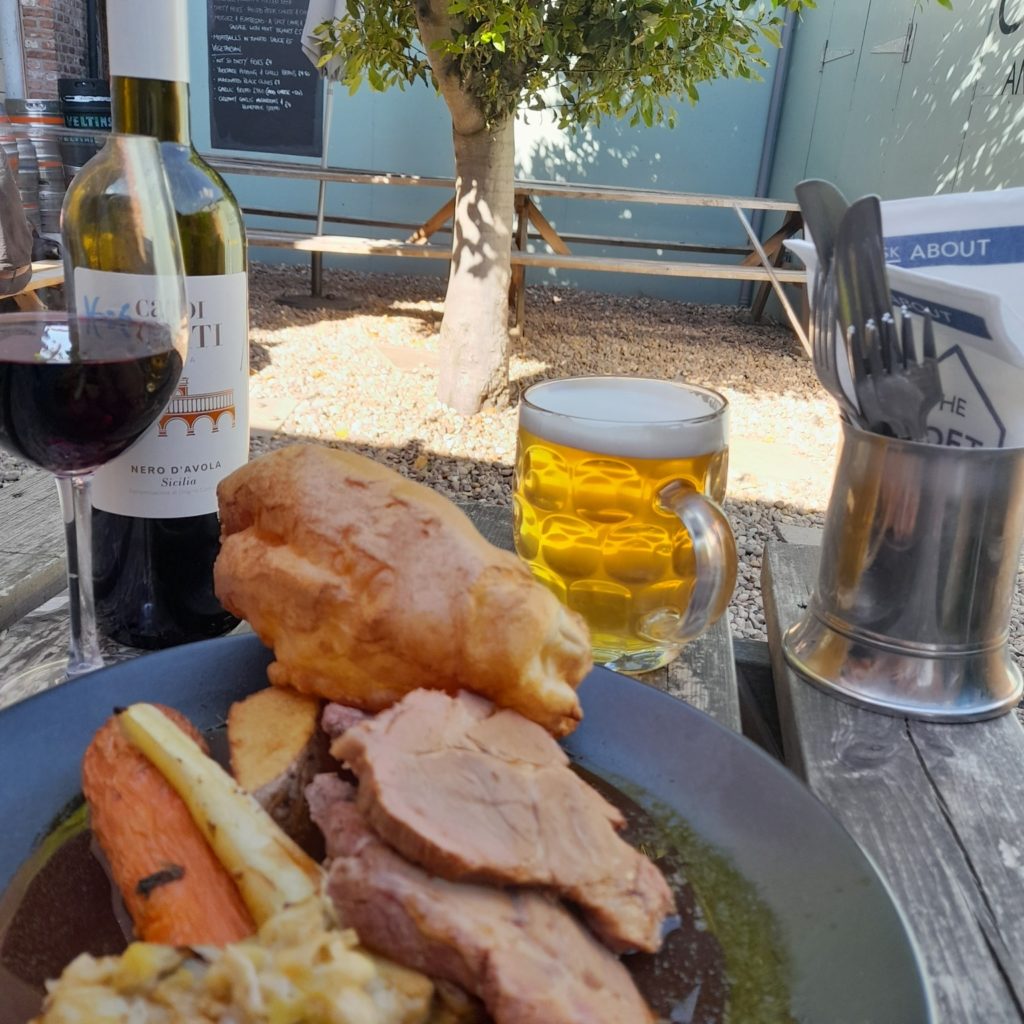 Situated just inside the City walls, The Chopping Block is an Anglo-French restaurant set above a traditional Ale House. For Sunday lunch you can choose from beef, pork or vegetarian pie all served with Yorkshire Pudding, roast potatoes and seasonal vegetables.
Visit the website for further details
2-4 High Petergate, York YO1 7EH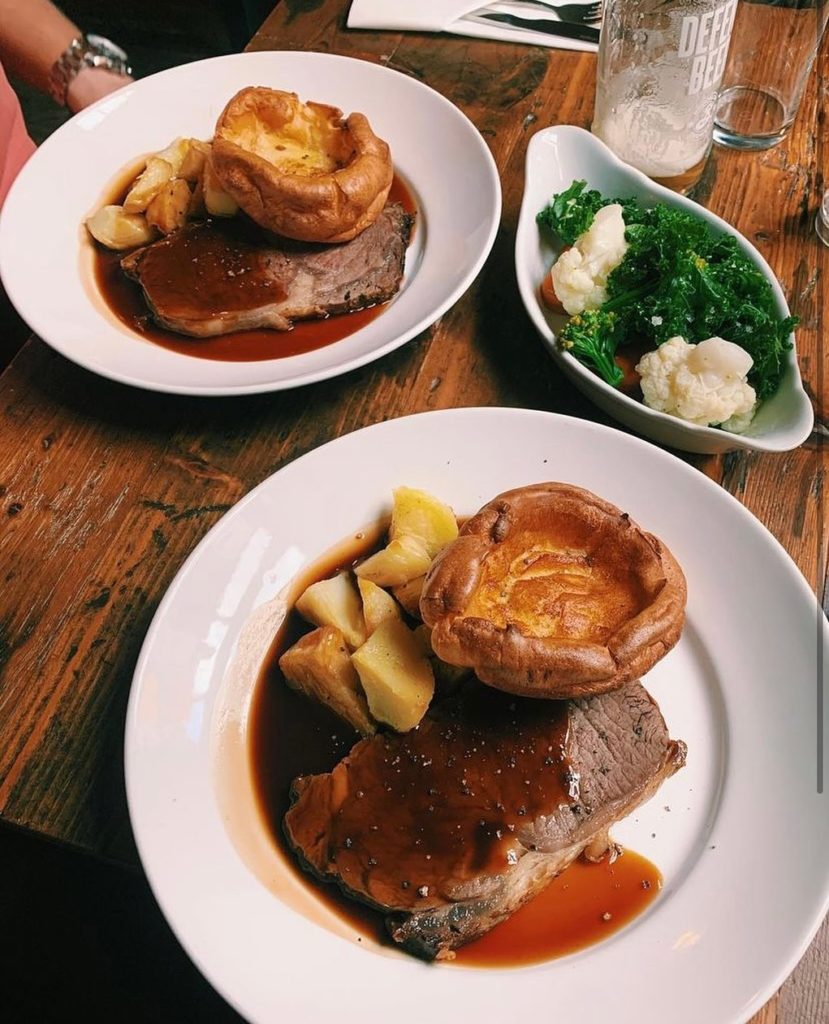 Step back in time as you rub shoulders with the pillars of one of four ancient Roman entrances to York. The Sunday menu features confit lamb shoulder with minted new potatoes. There are many other options on the menu too.
Served from 12 noon
Visit the website for further details
Station Road, York YO24 1AA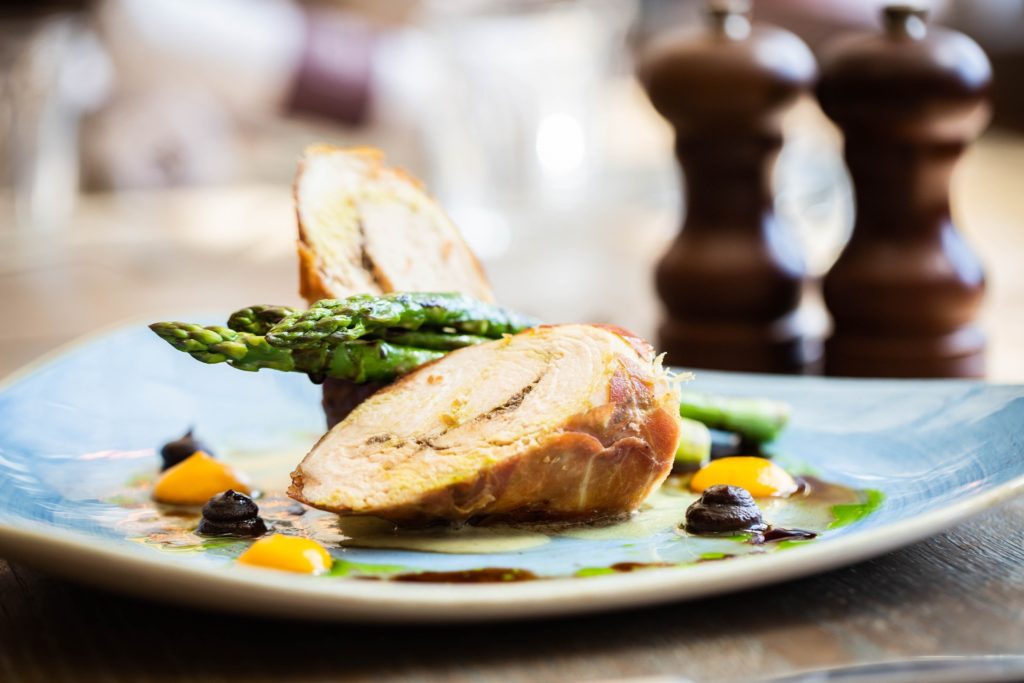 Situated directly beside York railway station, at the foot of the historic city walls, the One AA Rosette Refectory Kitchen & Terrace is an all-day restaurant and outdoor terrace serving freshly prepared seasonal fare in the York Principal Hotel. Sunday lunch has a choice of beef, pork loin or sea trout and a vegetarian option. You can enjoy the dishes in their dining room or al-fresco on their outdoor terrace overlooking the York City Walls.
Visit the website for further details
Looking for Sunday Roasts in a different location, check out Best Roast Dinners near me