Looking for the perfect place for Roast Dinners Edinburgh has plenty to choose from, whether you are looking for the best roast in Edinburgh any time of the week or specifically the Best Sunday Roast Edinburgh Sunday Lunch Edinburgh or Sunday Dinner Edinburgh can provide you with them all, check out :
18 Best Sunday Roasts Edinburgh Has to Offer
49-51 London Street, Edinburgh EH3 6LX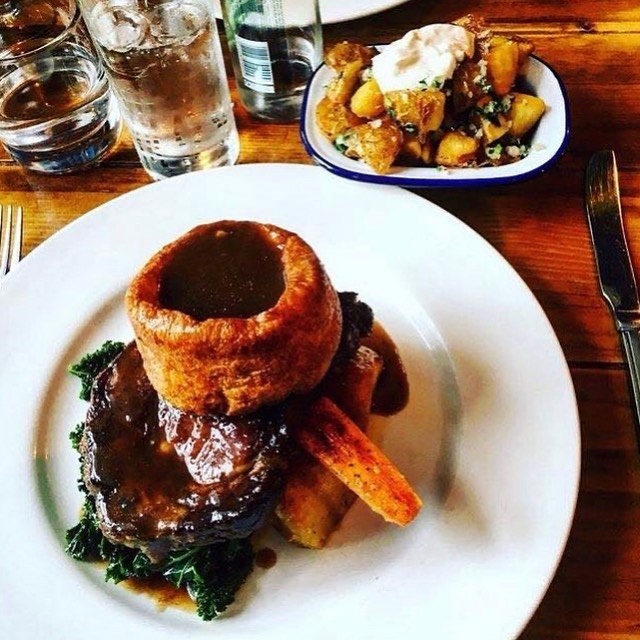 Located on Edinburgh vibrant Broughton Street The Ox welcomes visitors with a contemporary take on Scotland's Larder, and of course their famous Sunday Roast. There's beef rib eye or vegetable and nut loaf served with roast potatoes, green beans, carrots, kale, Yorkshire pudding and gravy.
Served from 11.00am till they sell out!
Visit the website for further details
55 Thistle Street, Edinburgh EH2 1DY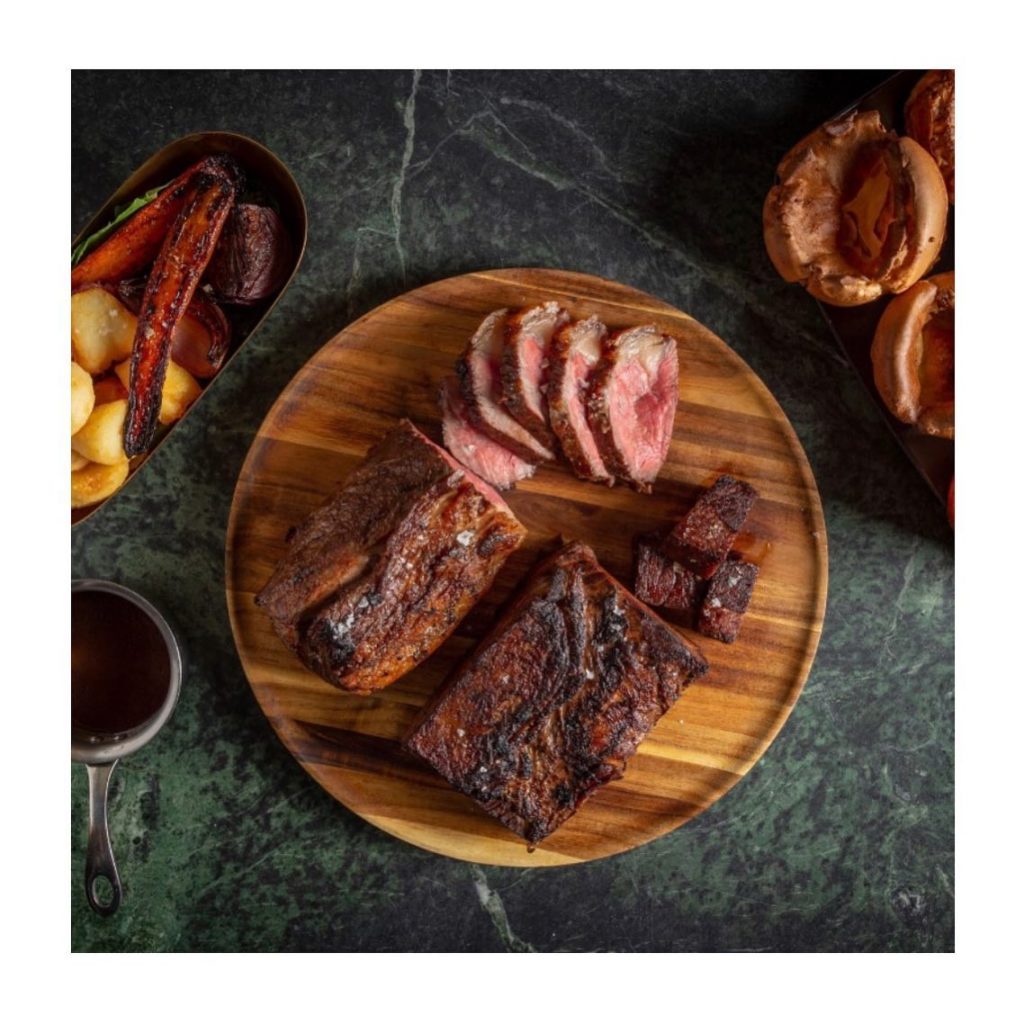 The Bon Vivant was opened in September 2008 by Stuart McCluskey with an idea to create an environment that was similar to those found on the continent; where dining is often informal and casual. Choose from roast sirloin, traditional trimmings, roast lamb rump or pork or for vegetarians stuffed aubergine, tomato and red pepper piperade.
From £15-£19
Visit the website for further details
1-3 Rutland Street, Edinburgh EH1 2AE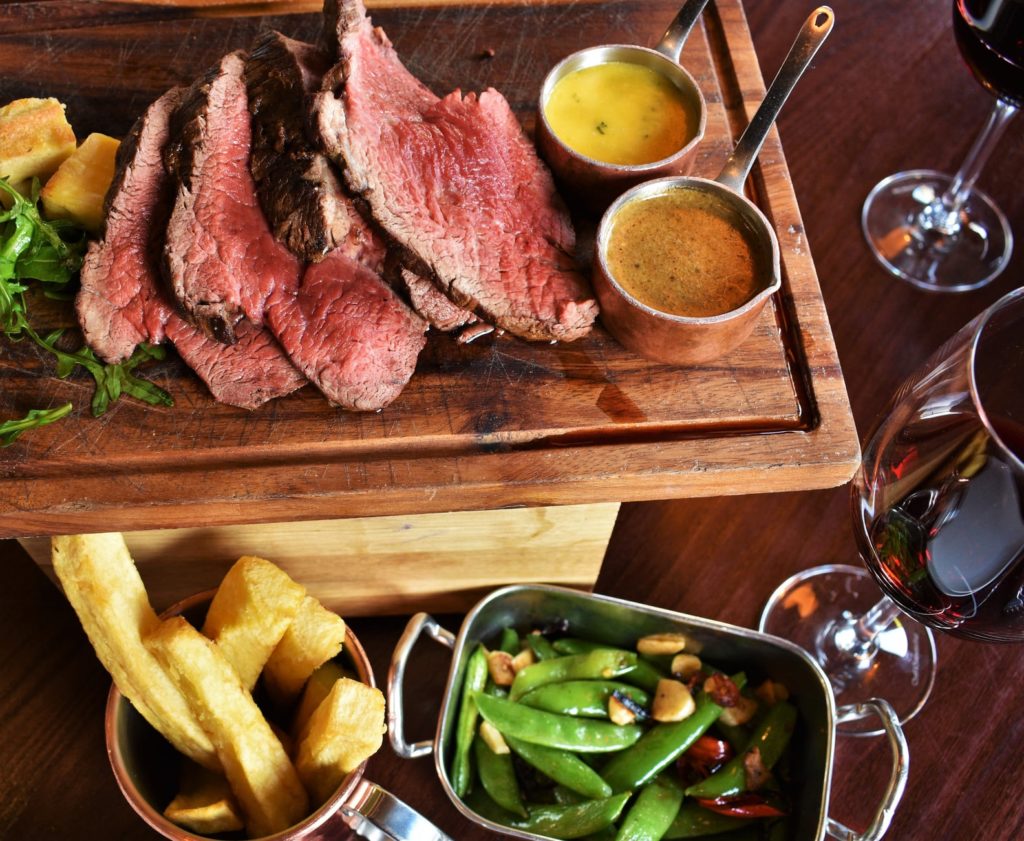 The name Kyloe, an old Scots word for Highland beef cattle, was chosen for the restaurant as it represents the strength and versatility of Scottish beef produce. It's more than just Yorkshire puddings flowing with home-made pan gravy, fluffy roast potatoes accompanied by sweet vegetables and a roast rib of Scottish Beef carved at the table in front of you.
£100 serves four adults
Served from 12:30-5.00pm
1 Comely Bank Road, Stockbridge, Edinburgh EH4 1DR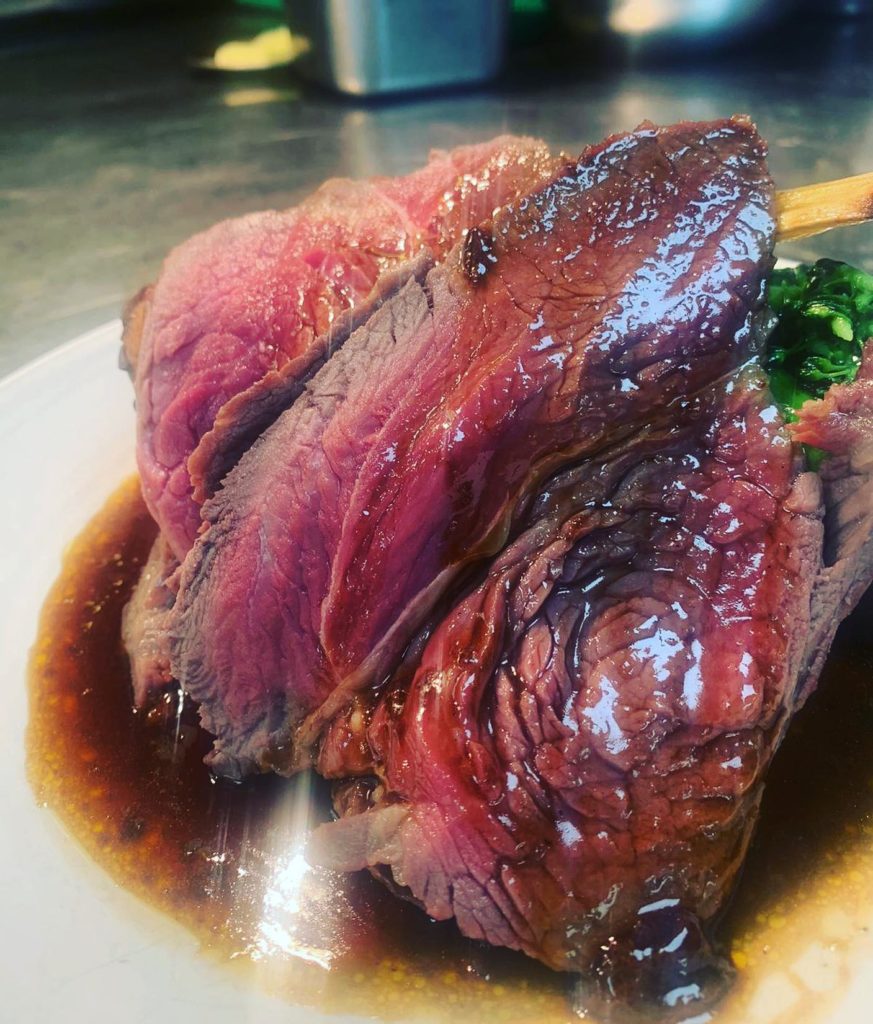 The Scran & Scallie is the popular venture from the team behind Michelin star restaurant The Kitchin and Kitchin Group of restaurants. Classic signature dishes such as Ham, egg and chips, fish and chips and Sunday Roast are served alongside some seasonal favourites such as asparagus and roasted salmon and Eton mess to name a few.
Visit the website for further details
256-260 Morrison Street, Edinburgh EH3 8DT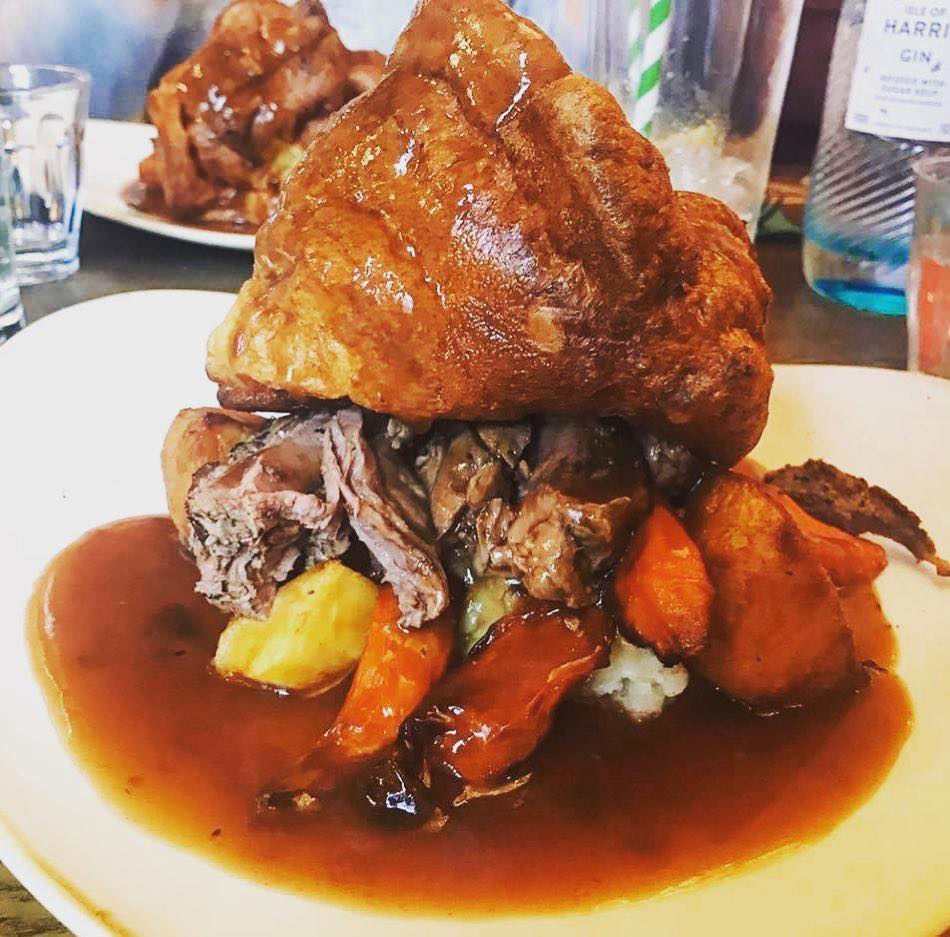 Jolly Botanist is located in the West End at Haymarket. The Sunday Roast will include the cut of the day, roast potatoes, seasonal vegetables with Yorkshire pudding and gravy.
Priced at £16
Visit the website for further details
49 Frederick Street, Edinburgh EH2 1EP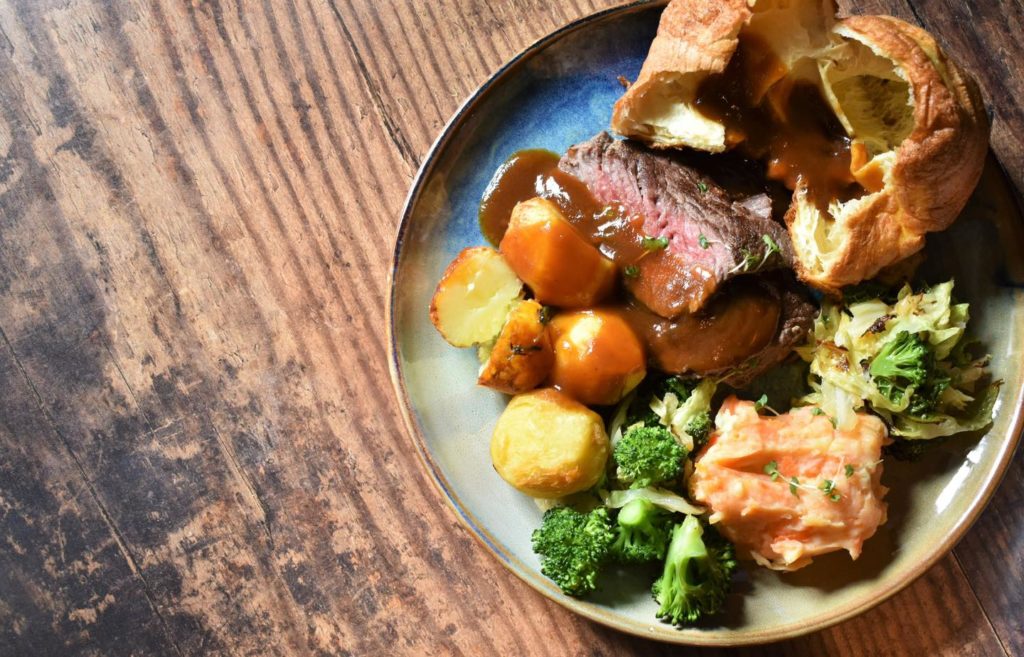 A hidden jewel below the cobbles of Frederick Street. The Queens Arms prides itself on being a pub for locals and visitors to Edinburgh alike. Their sharing roast features a mouthwatering premium beef cut, locally sourced from some of Scotland's best suppliers. As well as all of the traditional trimmings and your favourite drinks, you can expect fantastic quality and fantastic flavour.
Served 12 noon -5.00pm please state "Sunday Roast" under Special Requests if you are booking for a Sunday Roast.
Visit the website for further details
1-3 Cumberland Street, Edinburgh EH3 6RT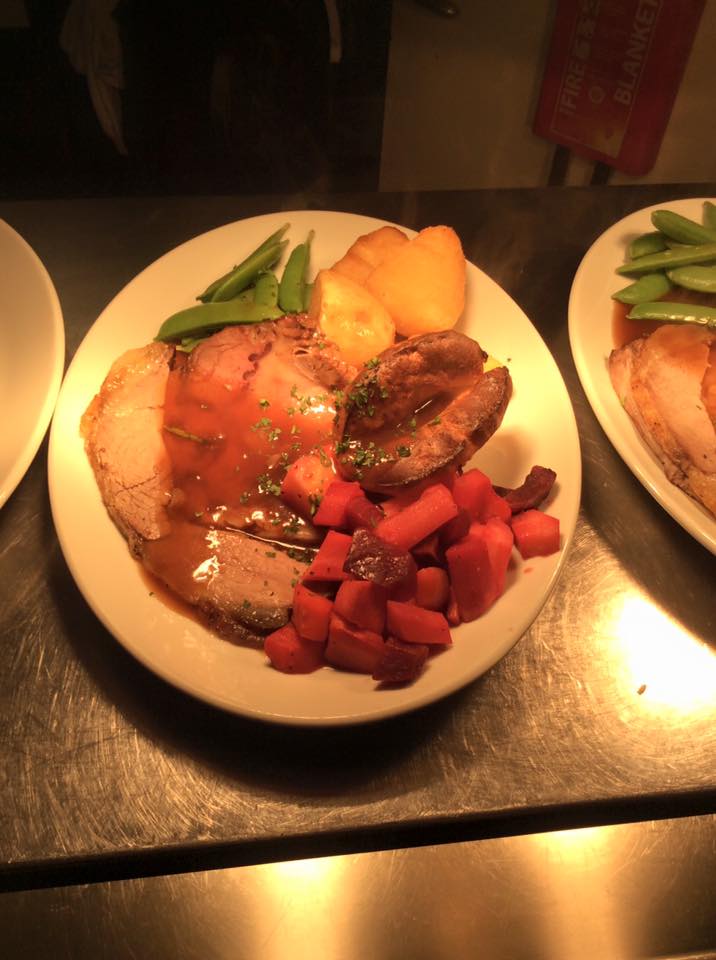 Nestled in the residential streets of Edinburgh's Georgian New Town, The Cumberland Bar offers the finest real ales, wines, spirits and delicious food in welcoming wood panelled surroundings. Sourcing fresh, locally produced, organic ingredients, as well as offering dishes designed for the modern pressures of life, whether it be time, or appetite.
Visit the website for further details
32 Castle Street, Edinburgh EH2 3HT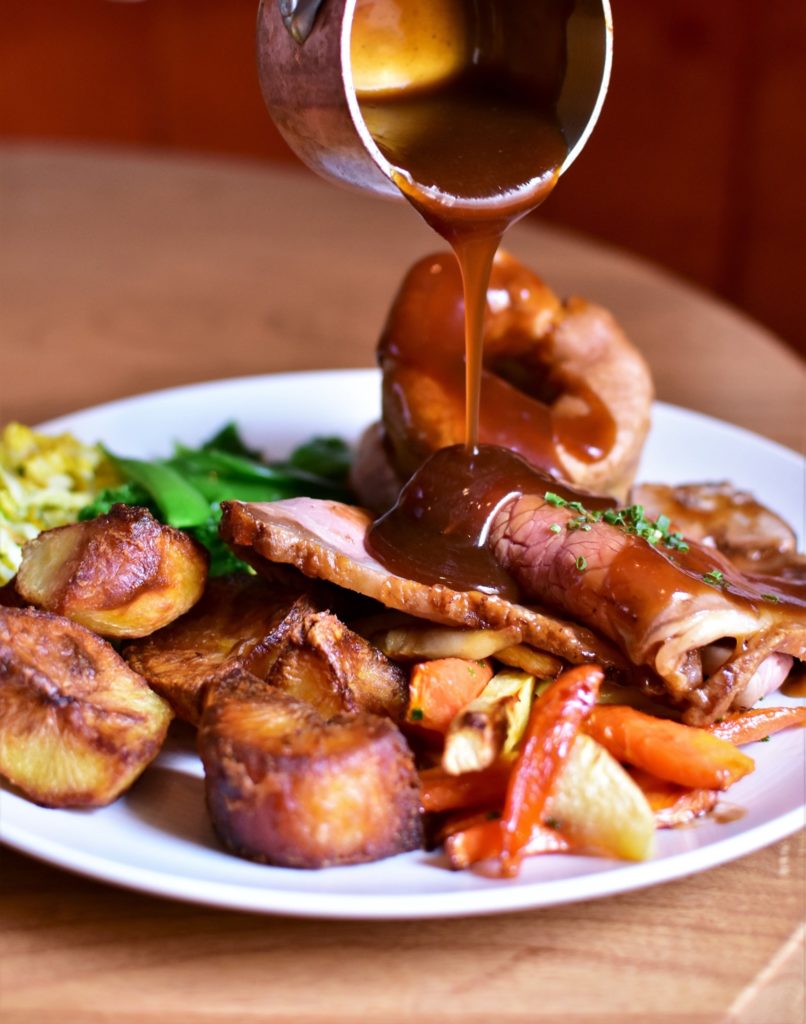 The former home of Kenneth Grahame, the author of Wind in the Willows, is what has inspired this restaurant! With a menu inspired by local and seasonal produce, an exclusive private dining room where you can feast on beasts and a trip to their outdoor riverbank.
Visit the website for further details
23 W Register Street, Edinburgh EH2 2AA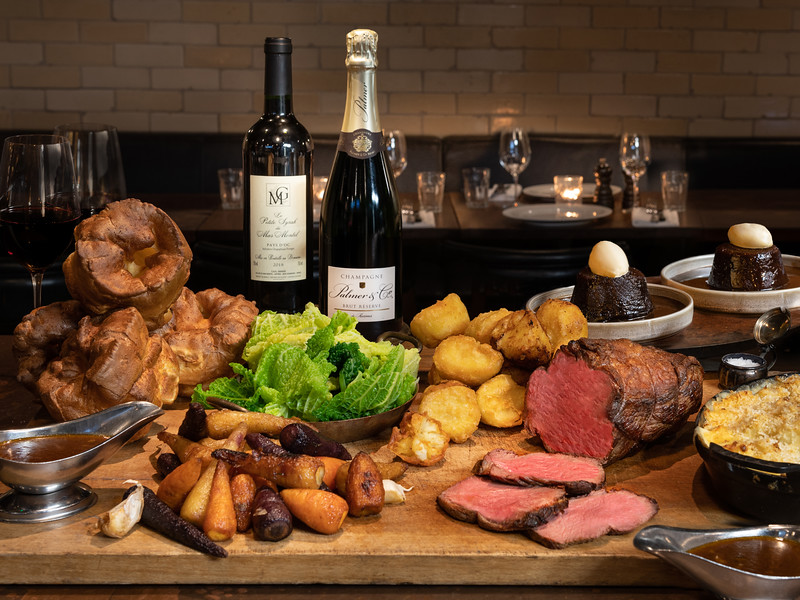 Traditionally, large joints of meat were roasted on a spit over an open fire. To achieve a similar flavour they start theirs on real charcoal and finish them in the oven. Enjoy slow roast rump served with beef dripping roast potatoes, Yorkshire puddings, carrots, greens, roasted shallots and garlic and bone marrow and onion gravy.
Priced at £20
Served from 12 noon (can't guarantee any will be left after 5.00pm)
9 Croall Place, Leith Walk, Edinburgh EH7 4LT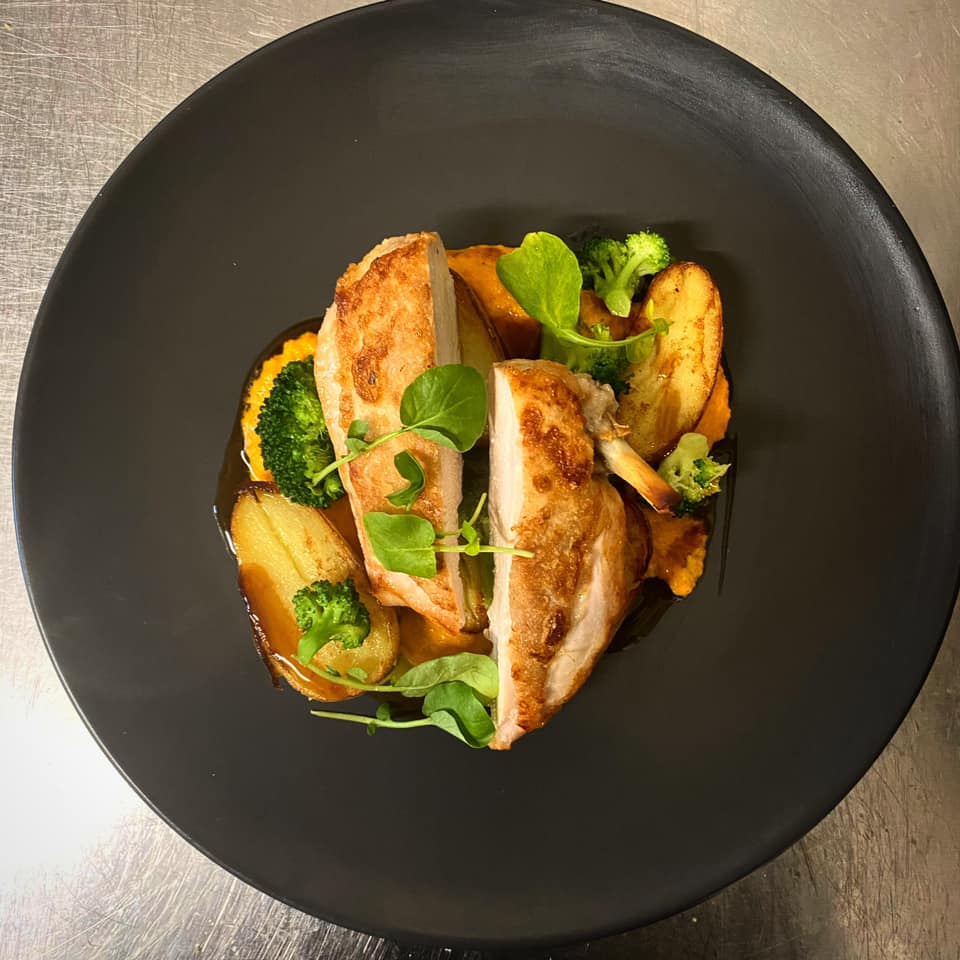 Located in the heart of Leith, this restaurant serves a small menu of flavourful dishes using local and seasonal ingredients. Enjoy a roast breast of chicken, glazed carrots, carrot puree, wild garlic croquette.
Two courses £20 | three courses £25
Visit the website for further details
237 Morningside Road, Morningside, Edinburgh EH10 4QU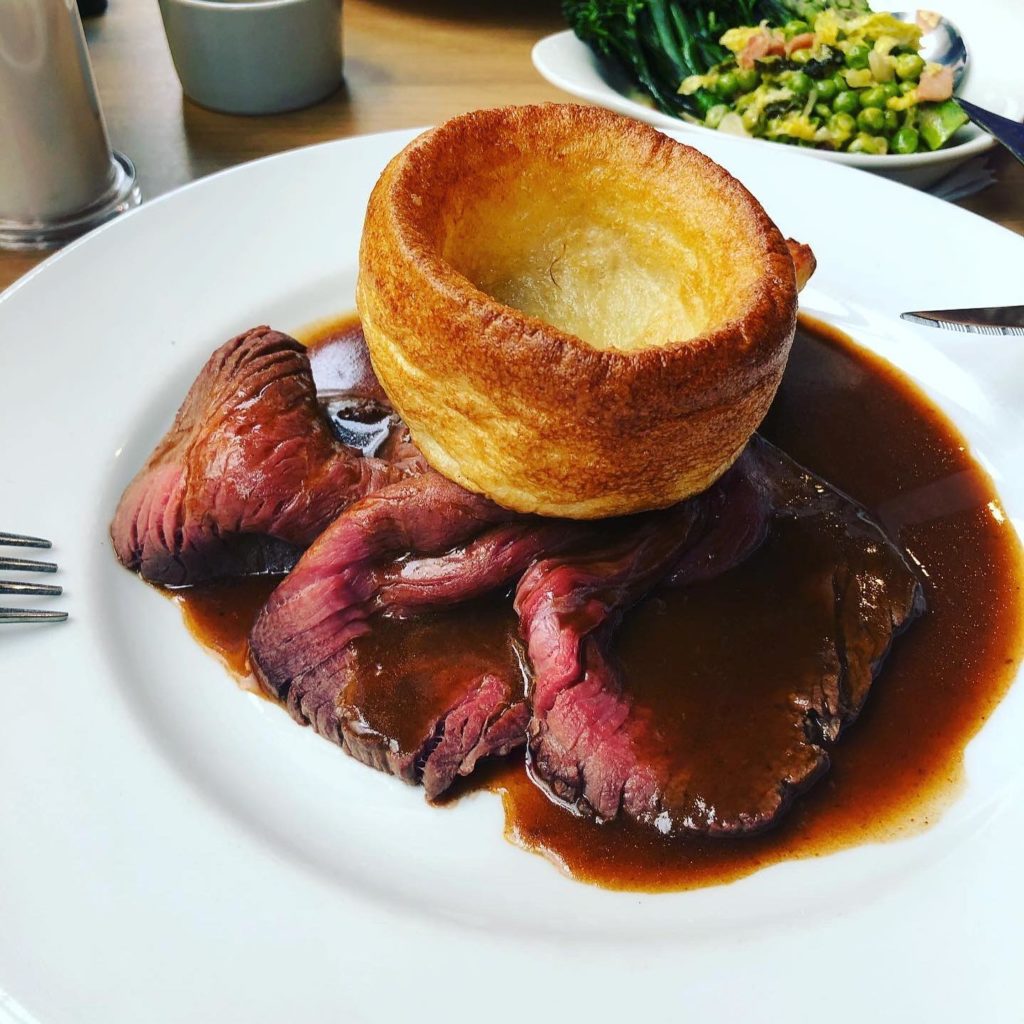 The Canny Man's pub in Morningside is an Edinburgh institution established in 1871 and passed down through generations of the Kerr family. Enjoy a choice of two succulent roasts of locally sourced meat served with all the trimmings there is also a vegetarian option.
Served 12.30 – 3.30pm
Visit the website for further details
Queen Margaret's Head, North Queensferry KY11 1HP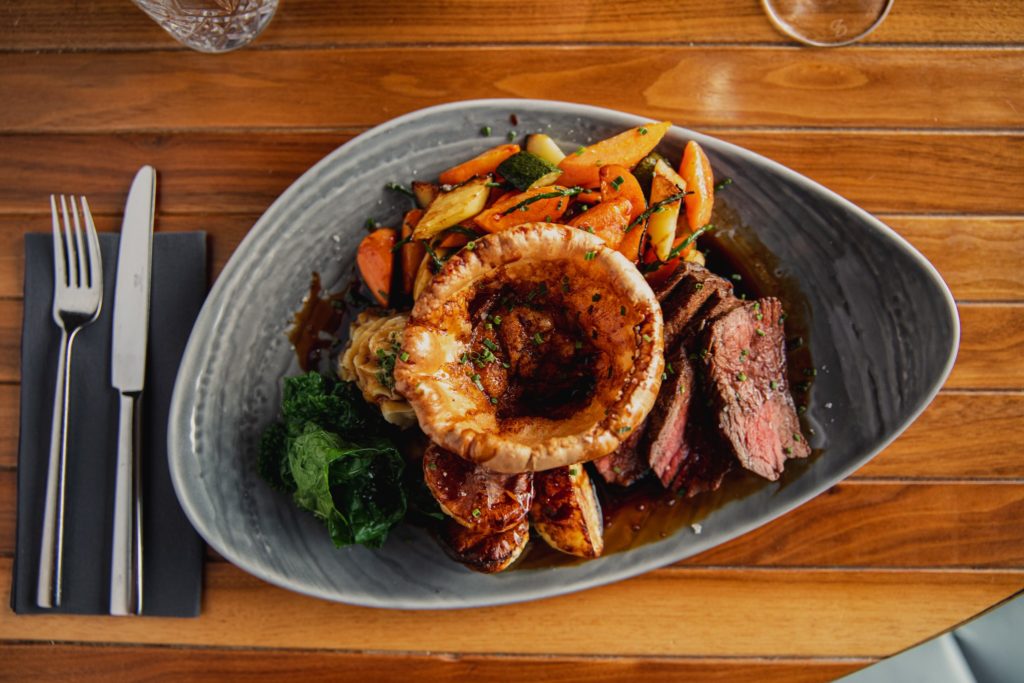 The show-stopping Shore Grill & Fish House, sits proudly on the headland above the historic town of North Queensferry . Enjoy lamb, pork belly or shin of beef with potatoes and vegetables.
From £15.50-£18.00
Visit the website for further details
Priestfield Road, Edinburgh EH16 5UT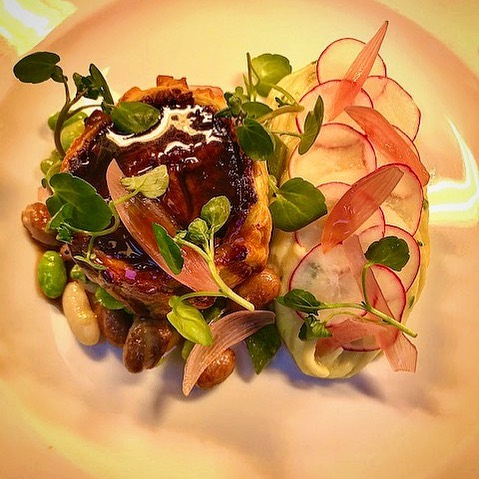 Rhubarb delivers all of the gourmet delights, magic, drama and romance you would expect from the creator of the Witchery by the Castle.Indulge in roast rump and sirloin of Scotch beef, roast potatoes, Yorkshire pudding, honey-roast vegetables
Served 12.30pm – 3.00pm
Visit the website for further details
1 George IV Bridge, Edinburgh EH1 1AD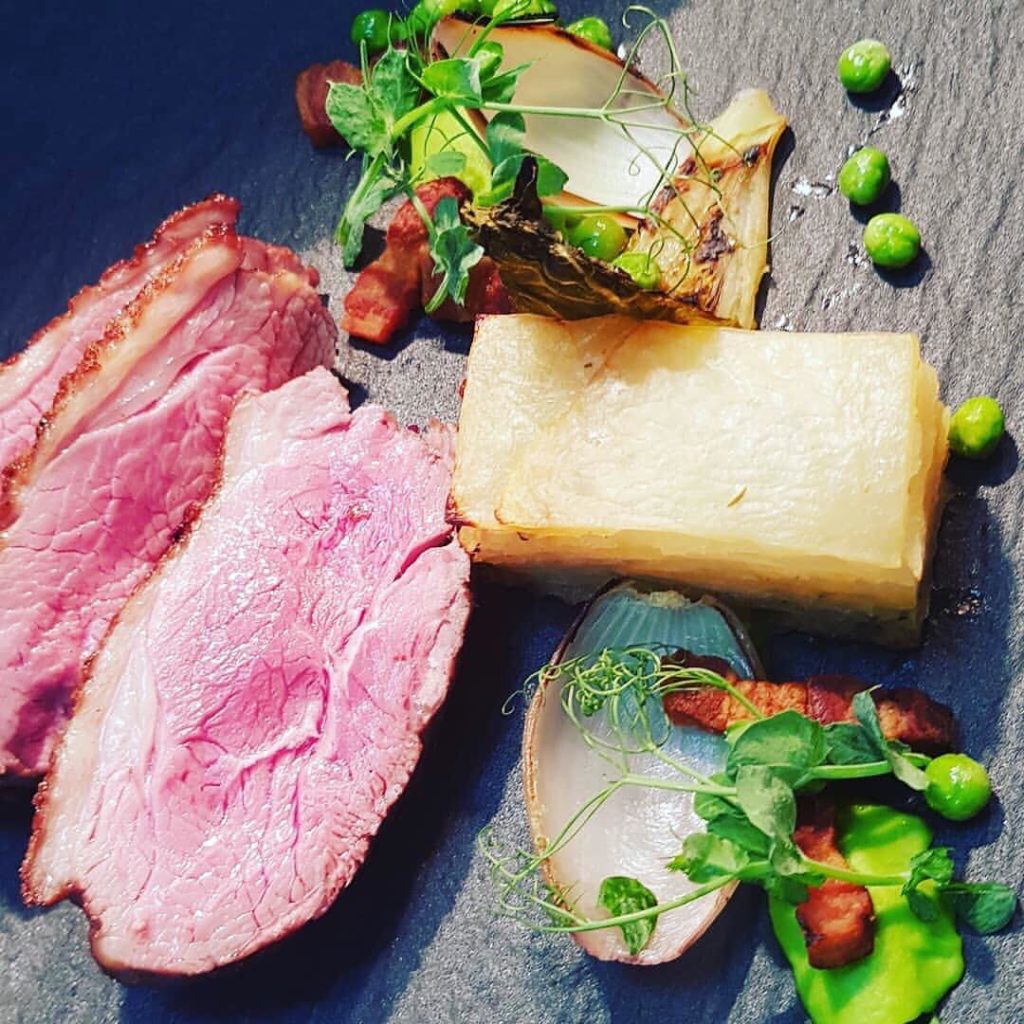 Award-winning Andrew McQueen's Cucina is now a firmly established focal point of Edinburgh's historic old town. Make the most of your Sunday and indulge in a delicious three-course brunch menu with coffee and prosecco refills.
Visit the website for further details
1 Festival Square, Edinburgh EH3 9SR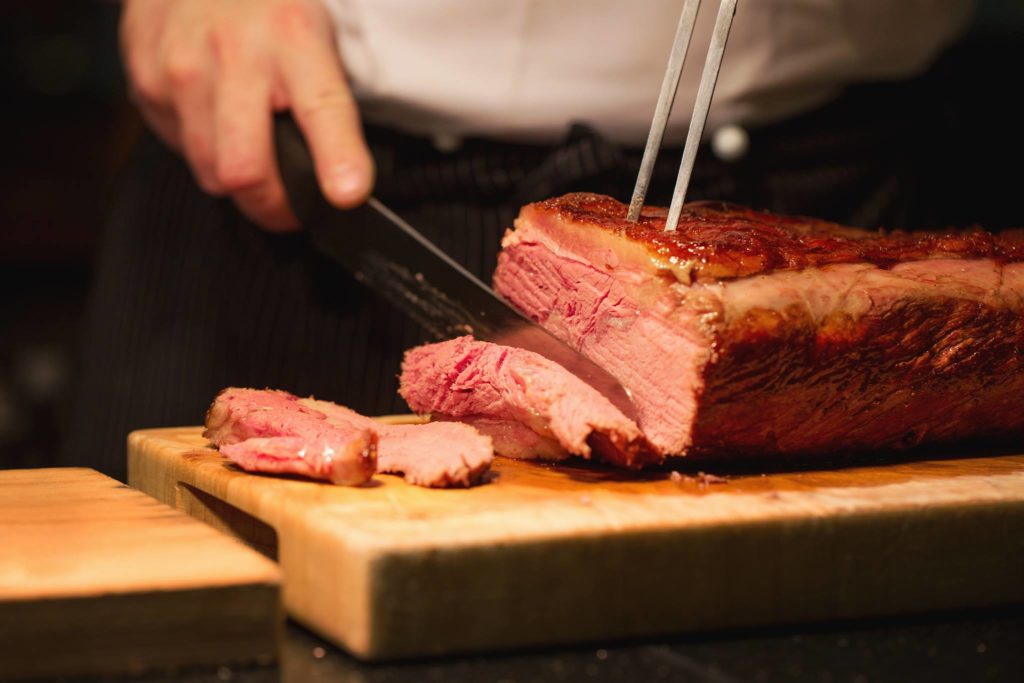 One Square Bar & Brasserie is well-known amongst locals for offering only the freshest and most seasonal Scottish produce. You can get a roast chicken breast with tarragon mash, savoy cabbage and pancetta bacon, fine green beans, rosemary sauce.
Priced at £12
Visit the website for further details
21-25 George Street, Edinburgh EH2 2PB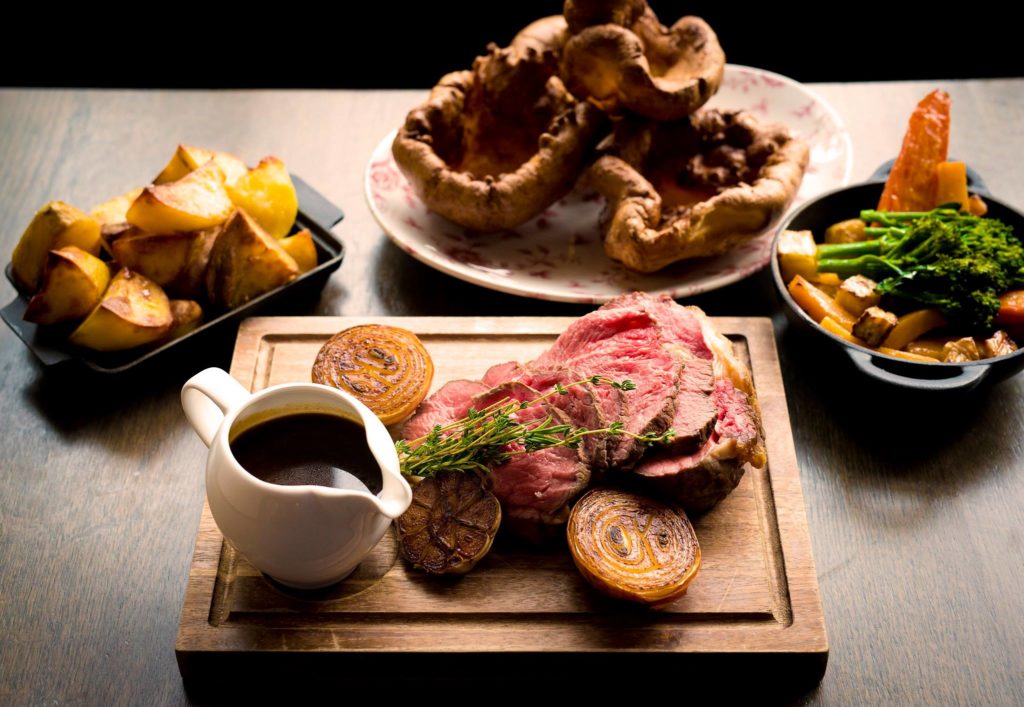 Occupying the former home of Susan Ferrier – The Printing Press Bar & Kitchen pays homage to its illustrious heritage. You can order roast corn fed chicken, creamed potatoes with wild mushrooms and herbs.
Priced at £19
Visit the website for further details
1A Market Street, Edinburgh EH1 1DE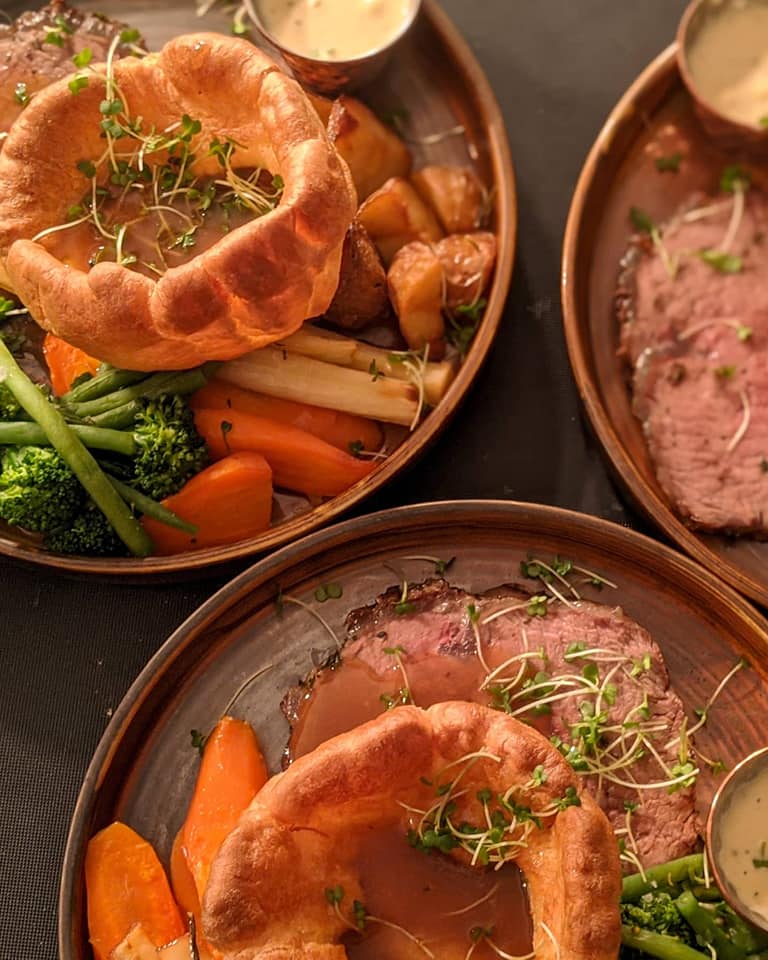 Choose from succulent roast beef sirloin, flavourful paprika, honey and herb half chicken or decadent vegan mushroom and stout pie. Served with seasonal root veg, crispy haus roast potatoes, steamed greens and a glorious hausmade Yorkshire pudding. Children can enjoy the Sunday roast too and tuck into a Yorkshire pudding bowl, loaded with roast beef, veg and gravy.
Two courses £20 | three courses £25
Served from 11.00am
1, 77b George Street, Edinburgh EH2 3EE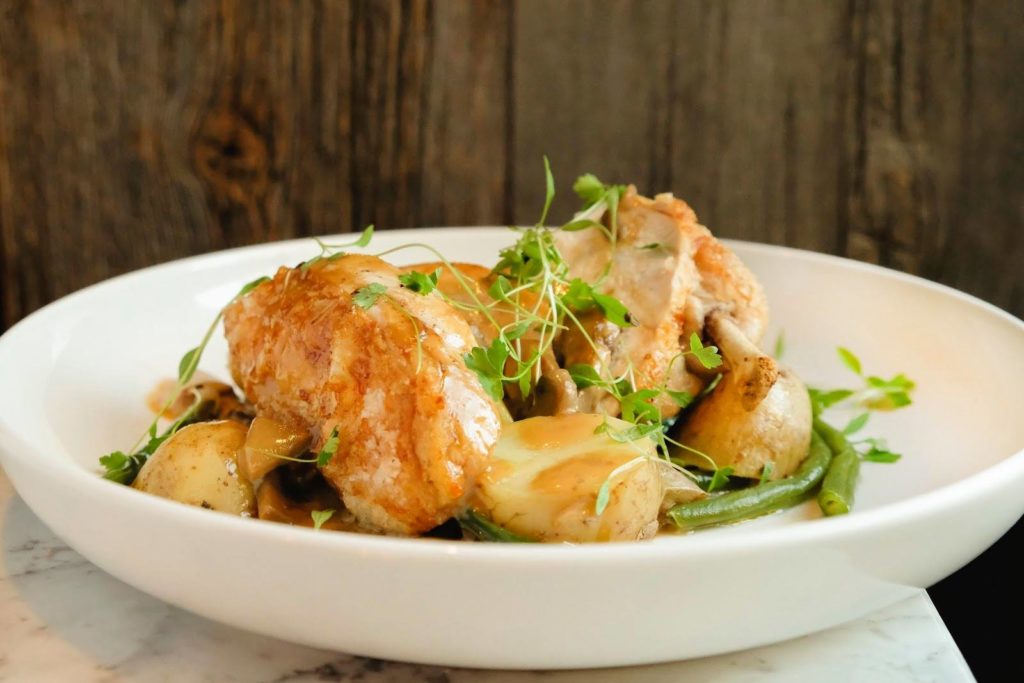 The Cadiz menu is a round-the-world culinary tour that will always conjure up those memories of holidays. Sundays are all about those long lazy lunches with friends, you can enjoy chicken, pork loin, woodland mushrooms, onion & fresh asparagus.
Priced at £23
Looking for Sunday Roasts in a different location Check out Best Roast Dinners Near Me